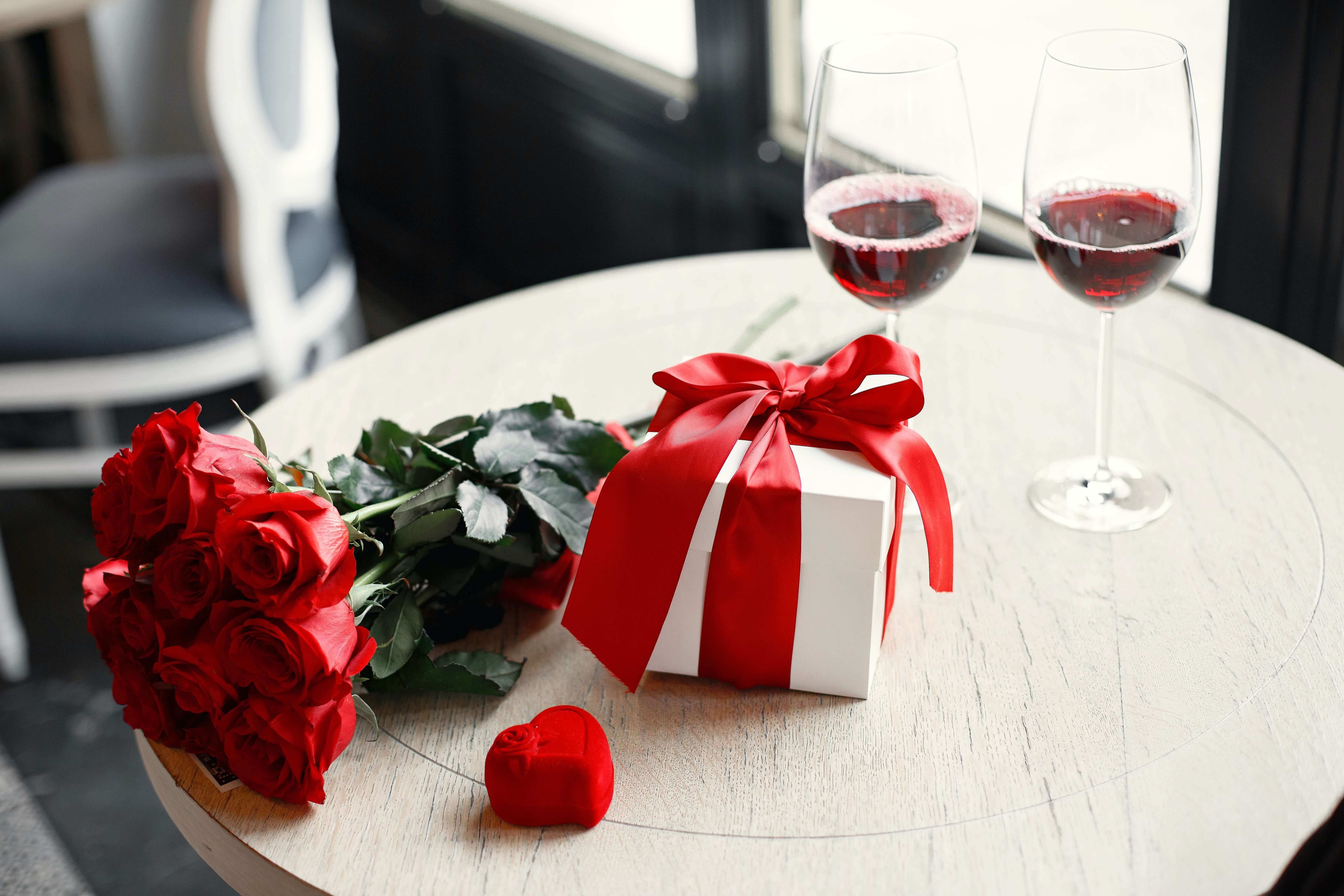 February 14th marks Valentine's Day, a holiday dedicated to love and romance. The celebration of this day dates back to 500 AD, when it was added to the Roman calendar. One of the reasons for the creation of Valentine's Day can be attributed to Saint Valentine, a Roman priest known for performing weddings for soldiers that were forbidden to get married. The holiday was further strengthened and tied to ideologies of love for centuries and continues to be a reminder of love even today.
Valentine's Day is still popular to celebrate with loved ones today! Many people enjoy buying gifts or going out with their partners to commemorate the holiday of love. Galentine's Day is also an increasingly popular celebration that puts an emphasis on friendship and platonic love. There are numerous ways to celebrate Valentine's Day with local businesses in Baltimore:
Family Friendly Valentine's Day
Valentine's Day at Jimmy's Famous Seafood
Enjoy live music from Saxl Rose and fresh seafood at Jimmy's this Valentine's Day. Eat like royalty when you order the King's Stuffed Lobster with your choice of side, including their Famous Crab Mac. Jimmy's is a great place for a date for two, or the whole family to join for a tasty night out!
Valentine's Day at Mama's on the Half Shell
Head over to Mama's on the Half Shell for a specialty Valentine's Day meal. Choose from a variety of entrees, like delicious Tequila Scallops or the Valentine Steak Dinner that will have you head over heels in love. Finish off your meal with a treat, like their Chocolate Mousse, or New York Style Cheesecake that will cure your sweet tooth cravings. Call or schedule a reservation online to make sure you don't miss out on these mouthwatering eats!
Date Night
Valentine's Day Aphrodisiacs Dinner
There are some foods that are believed to enhance sexual desire and improve intimacy. Hosted by Schola, you can participate in a cooking class that focuses on these heightened foods that will truly set the tone for your Valentine's Day. The meals created include lobster ravioli in white wine tarragon and garlic sauce, as well as a delectable dark chocolate flourless cake. This event is the perfect treat to enjoy with a loved one this Valentine's Day!
Boards in a Box – Valentine's Edition
Get ready to create your own heart-shaped charcuterie board at Guilford Hall Brewery. With various meats, cheeses, and accompaniments, you will be able to create a sweet and savory board that will help you get into the Valentine's Day spirit. Purchase single admission, or go with a partner and build a single board together to bring home and enjoy!
Belvedere Valentine's Day
Enjoy a wonderful meal at the Belvedere Hotel in their John Eager Howard Ballroom for Valentine's Day! Start your meal with appetizers, like Arancini or Seared Scallops — guaranteed to leave you wanting more. Then, choose from the highly rated main courses, including Herb-Crusted Black of Lamb and Lobster Tail. Finish off the meal with a tasty dessert, like their decadent chocolate cake with raspberry coulis and chocolate-covered strawberries on the side. The owl bar will also be open all night long, giving you access to refreshing drinks ranging from Black Stallion Chardonnay to Noble Pinot Noir. For a more traditional and classy date night, the Belvedere Hotel is the perfect option to add some classic romance to the night.
Valentine Dinner
Bondhouse Kitchen is ready to cook up some love on Valentine's Day for you and your partner. Check out the dinner special that gives you an appetizer to share, two entrees, one dessert, and two glasses of wine to satisfy you throughout the night. There are tons of tasty options to choose from, including a traditional Chicken Pot Pie to a classy Spice Rubbed Bistro Steak. Meanwhile, sip on Elouan Pinot Noir, Mionetto Prestige Prosecco Brut, or one of the many other options for a fancy and delicious Valentine's Day celebration.
Galentine's Day!
If you're single, or simply prefer to celebrate Valentine's Day with your friends, be sure to check out these great Galentine's options in Baltimore:
Valentine's Charcuterie at Checkerspot
Make your own Valentine's Day-themed charcuterie board at Checkerspot Brewing Company this month! Enjoy refreshing beverages as you piece together delicious meats and cheeses, along with mouth-watering accompaniments on a heart-shaped charcuterie board! Bring out a group of some of your best friends to have a fun night out while learning some cool tips and tricks about making a tasty board that you get to bring home and treat yourself to!
Valentine's Day Drag Brunch at Peabody Heights
Get ready to have a blast with this spectacular event at Peabody Heights Brewery. Join Dustyn Dawn, Sirene Noir Sidora Jackson, Chanel Belladonna, and Vagenis for an afternoon of fun and great vibes! This event is perfect for Galentine's Day and to get you and your friends out in the town for Valentine's Day in a unique and entertaining way!
Galentine's Flamingle Brunch
This exciting event includes zoo admission, a brunch buffet, an open bar, and tons of events to keep you entertained! From trivia or bingo to drag performances, you will constantly be having fun with yourself and your gals! This special event is not one to miss! Grab a few friends and head over to the Maryland Zoo in Baltimore for a Valentine's Day celebration to remember.
Galentine's at the Point
You and your besties will have an amazing time this Galentine's Day! With each ticket, you get access to an open bar and a bunch of other fun perks! Take photos in the cute photo booth to bring a keepsake home or head to the dance floor to dance all night long. There is even a chance to get permanent jewelry from the Jade Collective at the Point, taking friendship bracelets to a whole new level. This event is absolutely perfect for friends to get together and celebrate each other and spend the night having fun!
Galentine's Day Dance
No Way Rosé is bringing the legendary Taylor Swift right into Baltimore with this Taylor Swift-themed dance party. Enjoy music from all her albums and dance through every Era with your girlfriends. Themed cocktails and other drinks will be available, as well as giveaways and the chance to win a grand prize. Bring your favorite Swiftie and enjoy a night out with friends to commemorate Galentine's Day!
Kooper's Tavern Galentine's Day Party
This cute Galentine's party has all you could need — bottomless fizzy drinks and the chance to shop! With small pop-up shops at the event, you will be able to find the perfect gift to treat yourself or your friends to. Psychic Readings will also be available to make for an even more unforgettable experience. Bring your best friends over to Kooper's Tavern to drink, shop til you drop, and have fun all night long.
Cheese and Chocolate Workshop – Belvedere Square
What is better than cheese and chocolate? Give a gift that your loved one is guaranteed to enjoy by making a charcuterie board with hand-crafted cheese and local chocolates, along with some extra sweet fruit and cookies. Sip on a cocktail while you create your own beautiful board and have a night of fun that you get to take home with you and eat!
Gifts
Whether it's for your sweetie, bestie, or yourself, be sure to shop small and support local Baltimore businesses this Valentine's Day and beyond:
Berries by Quicha
Chocolate-covered strawberries are the absolute perfect gift for Valentine's Day! At Berries by Quicha, you have an abundance of sweet choices to buy for yourself or your loved ones. Order some of the Valentine's Day offerings, like a half dozen stunning Valentine's Day berries paired with a half dozen premium "red" fleurs d'ave roses. This romantic gift is the perfect way to show your love for Valentine's Day.
Bin 604
Whether you choose a six-pack or a nice bottle of wine, Bin 604 has all you need for a nice gift for a loved one or to bring to a party for Valentine's Day. Try a nice light and fruity Villa Nova Pinot Noir Rose with some lovely bright berry and fruit flavors. If you prefer something a bit heavier, try the Italicus Rosolio di Bergamotto Liqueur with citrus tones, featuring a light infusion of rose and lavender. These drinks are the perfect Valentine's Day gift that is guaranteed to be a hit.
Charm City Chocolate
Chocolate is the perfect way to get to one's heart. At Charm City Chocolate, you have a wide variety of chocolates to choose from that will make your mouth water. You can purchase an iconic Red Sparking Valentine's Heart box that looks straight out of a movie, or try a unique Valentine's treat, like crispy chocolate-covered pretzels! With so many options and decorations, you can find the perfect fit for you or a loved one that will ensure you celebrate Valentine's Day in the most romantic way possible.
Celebrate with Love
There are so many places in Baltimore to celebrate Valentine's Day, whether it's alone, with friends, with a partner, or with family. Valentine's Day is the perfect way to celebrate how much you love the people around you and to show your adoration. All of these events, restaurants, and businesses are guaranteed to make you feel the love, have fun, and support local. Happy Valentine's Day!